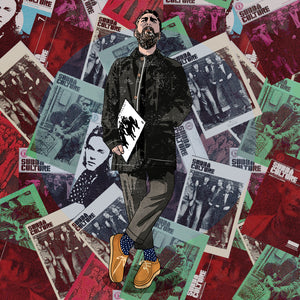 SUBBACULTURE - MAYBE IT ALL STARTS WITH REDUNDANCY
We recently caught up with our good friend Mark Hynds. Mark is the zine pioneer, creator and founder of what is perhaps the coolest subculture zine on the globe. He let us (and you) in on some of his coming of age influences and the path that led him to create the constantly improving

Subbaculture

brand.
------------------------------------------------------------------------------------------------------------
In the early eighties they shut down the Midlands car factory my dad worked at. With no options locally he travelled to Newcastle for work. Needs must. Away from our family for the first time he returned the following weekend with a present. A cassette of the first
Specials
album. A truly fantastic thing - it sounded amazing and looked brilliant - aside from the graphics it was cloaked  in and the noise it contained, the two parts of the actual cassette casing were black on one side and white on the other, a small detail my eager teenage mind clocked and recognised as something worth noting - it seemed the truly good stuff was all about the details (much to my continual annoyance I no longer have it). After a few weeks of this routine of working away my dad was away for longer periods chasing work further afield in Germany (as it turned out he hadn't been attending auditions and successfully secured a part in the TV series  Auf Wiedersehen Pet) with a young family to support and a mortgage to pay he was simply doing what he needed to do. Tough times in the UK.
That first Specials album had everything to do with me growing up and into my teenage years. A frenetic sound powered by punks frantic holler that referenced the political and cultural shifts of the day but was as equally informed and influenced sonically and visually by the obscure, off kilter sound of ska from way back and much further afield. Sounds that built on and reactivated old sounds, simultaneously relevant and revealing. Intoxicating and intriguing. Plenty of stuff to go at, stuff that would become and remains my favourite kind of stuff - connections between music,
clothing
and culture.
From that moment on I was hooked - I pooled paper round and birthday money and bought everything the 2-tone label put out along with records from groups affiliated with that scene - pretty much every 45 and album from bands like The Beat, Madness, Dexys - I still have a complete set of Bad Manners singles. On the back of all this there was more stuff. I tracked down old Trojan ska 45's (initially mystified by the pace and weird wobble of that sound) and then The Jam became a major obsession. Confusions in the playgrounds and youth clubs from way back then were rife over the differences and divisions between 2 tone, skinhead, rude boys, mods. A messy mass of specific differences from those tribal times that insisted on partisan gulfs between these scenes yet through inquisitive backtracking and investigations a lineage between them all was revealed. 
Whilst the records I have gravitated towards and obsessed over across the proceeding years changed (and continue to) everything has been fuelled by connections between whatever I was listening to at the time, where it came from, it's influences and the way it moved those influences forwards, backwards, sideways. It has always meant there was a ton of good stuff to discover and obsess over.
Fast forwarding through years of discovering different sounds,  shifting wardrobe styles and a thirst for books, magazines I found myself on the wrong end of redundancy. The company I was working for at the time was being shut down, parts of it sold off. In truth I knew it was coming and had spent much of those final work weeks searching the Internet, collating photographs and graphics connected with all those street style scenes from previous eras. I had begun creating graphics and illustrations based on some of this stuff with the vague notion of starting a T shirt brand built around it all. 
When I finally hit the dole in between looking for work I killed time setting up the
subbaculture
website and began adding pictures and writing up short pieces on whatever stuff I was rediscovering - old records, paperbacks, magazines, films - anything connected to the idea of those street born scenes, the specificness of certain records tied to an even greater specificness of dress code, the emergence of strict 'total looks' that developed and created there own aesthetic. 
The idea of collating this stuff into a zine was originally something to give away with some tees but it began to overtake that, it seemed at least do-able and affordable at the time. Cash was tight so I stopped smoking for a week and the funds emerged (on paper at least) to get a zine printed up. The original idea design wise for the cover was to recreate the school exercise books I recalled from my youth. You know the kind of thing - a flat coloured card cover (it was blue for english, red for maths, yellow for science at my school) that ended up covered and scrawled over with doodlings/drawings of band logos. 
The first issue of the subbaculture zine didn't appear with that cover design (I'm still not sure why) but it did appear. A box containing 100 copies arrived back from the printers and as I set about individually numbering them (something I started as a kind of joke thinking no one would be interested and I'd struggle to sell even a 'limited' amount) I wondered if i was wasting my time. Bizarrely they were snapped up in a matter of weeks. It was a massive confidence boost at a time when I was struggling to pull in freelance work, and desperately trying to work out a way forward. 
Better still were the early email exchanges from people who had bought and enjoyed the zine. One such email was from Peter Jachimiak who offered to write a couple of articles for the next issue (a second issue was something I had only vaguely thought about at the time) but his enthusiasm was, and remains both infectious and essential to the fact that the zine continues to exist. For that I am eternally grateful. 
Teaming up with Peter to produce the zine, along with many other connections made with writers and self publishers like Jason Brummell and Tony Beesley (alongside a host of other contacts and contributors to the zine over the past couple of years - including Craig from CTM) constantly reminds me of the importance and significance that singular passions and the desire to create something mean to people. Learning about new stuff, learning more about stuff i thought i knew about,  creating and connecting with people are what i really wanted the zine to be about, so far its been all of those things.
If you haven't already, be sure to jump aboard the Subbaculture train and grab a copy of the latest issue. Each issue is super limited (and individually numbered) so don't hang on your laurels for too long. 
Marks writing and contributors get better with each issue and he's always looking for new quirks to further add to the cult factor. If we're ever in need of some good reading or even new design inspiration, the Subbaculture zine is always our go-to. 
Check out their Blog and Store via the banner below.
---