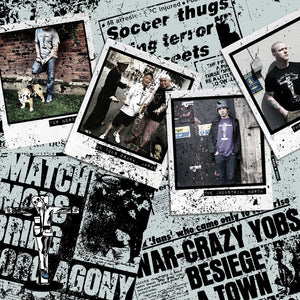 The Crucified Casuals
The Crucified Skinhead graphic is perhaps one of the most recognized pieces of subcultural artwork out there. It's political, powerful and provocative. No doubt all the more so when it first appeared. There's nothing like a touch of blasphemy to put people's backs up, especially back in the day.
In modern times, it is still just as symbolic and popular amongst skinheads than it ever was but as with anything in this digital, connected world, it's as good as impossible to maintain that same level of sacredness and to avoid the masses.  
So it was on that note, back in 2011 that we felt it was time we complimented this cult image whist adding our own modern twist.
As far as we're concerned, the football casual was and still is vilified by the media in a similar fashion that the skinhead movement was. In some cases even worse, as this particular street movement isn't really attached to music, so it doesn't go away. It morphs and adapts to slot in with the current timeline so it has never been accepted or romanced over like past subcults such as 60's skinhead or mod.
You only have to look at nostalgic, cheerful-like BBC documentaries about 1960's Mod culture and you'd have never thought that many of the seaside towns were on lock down on summer bank holiday weekends whilst pissed and pilled up scooter boys had running battles with rival rocker mobs and police. If you looked into the newspaper archives from that time it tells a different story, the media weren't so forgiving. However, they know that's now in the past, just a freeze frame in time, it's gone and they can cash in on it without appearing to be encouraging it. Whereas casuals, well that's football, and football never stops so the thugs remain, with a new generation often passed down from father to son. 
Perhaps for these reasons, our Crucified Casual range of t-shirts has been one of our cult tees. Just like it's predecessor, it's been worn and stocked the globe over and has sold out on each release. So poignant to some that they've had it permanently etched into their skin, and we've also used it to collaborate with the coolest US Street Punk band on the planet, fronted by one of the top punk artists in the world.
It's safe to say that this biblical, goggle hooded, three-stripe wearing hooligan has become something of a modern cult classic. And as much as we like to keep things limited and in-demand, we haven't quite finished with him yet. 
For as long as the establishment insist on demonizing the working-class, we'll keep on swinging back in whatever way we can. And if that's just in the form of a provocative t-shirt design or slogan, then so be it. 
---