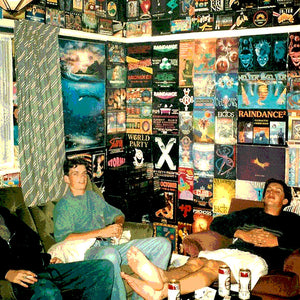 Ravers of the Lost Art
Remember back in the 80's and 90's when it was a thing to fully kit out your bedroom with rave and club flyers. Head to toe, a fully adorned wall and in some cases the ceiling too with cool free art. In todays digital world creativity certainly hasn't been lost, in actual fact the internet has given people better access to be even more creative. From access to what used to be unaffordable software for creation to the free platforms to share it, times are certainly good for anyone wanting to get their stuff out there and be part of the creative industry. However certain forms of physical art have been almost lost in this tech-world. One of those being the classic rave flyer. 
Old Skool and Hardcore / Breakbeat was a kind of coming of age scene for me. I was just too young to go to the early raves but we would spend weekends hunting places like Afflecks Palace for the likes of Helter Skelter and Fantazia tape packs and also Manchester's Spin Inn for records to spin on my Belt Drive Decks. We'd create our own vinyl mixtapes to play on the walkman at school and even make an attempt to dabble at hand drawn artwork to go along with it.
 For me the rave scene was perhaps the first graphic art influence and some of the flyer art was seen as art. I think from this point onward I knew I wanted to be a graphic designer of sorts. As kids we would even purposely head out to record shops and clothing stores in search of new flyers to decorate the walls with. I'm sure we used to really piss some of the clothing store owners off, just a mini swarm of urchins in with no intention of buying anything. Obviously as time moved on and we started to earn money, record collecting became the next progression and also a massive art influence. 
I kind of wish I hung on to some the flyers I collected over the years, I can even remember bagging them up to get rid of them needing quite a ridiculous amount of black bin bags for it. (Recycling wasn't a thing then)
I still get bits of freelance work designing flyers for club nights and also for some of the nights I'm involved with and have promoted myself. Most of these are more often than not exclusively for digital use only but occasionally some do go to print, which is always satisfying to see. 
Sadly, I have been left no other choice to go digital for this, but here's a handful of some of my favourite flyer design over the years.
---