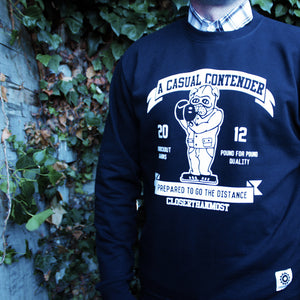 Sweatshirts for Grafters: A true Northern staple.
Aside from a week or so in July or August :D, it get's pretty cold up here. And as much as we have to admit that our true staple and best selling product is our tees, we do love a good sweatshirt. It's a garment that sits well with us and is perfect for layering up in the cold Northern winter, or even for pulling over a button down shirt to head out for a few scoops on a cool Summer evening. Either way, it's an all year round wardrobe staple.
When we first embarked upon this journey, we decided from the get-go that our sweatshirts would be treat almost as a side project and feature almost exclusively Industrial and Working-class inspired designs only. We could just go ahead and print all the t-shirt designs onto sweats too (in fact, people have asked on many occasions why we don't) and it would probably generate heaps more sales in the process, but that's not what we're about. 
In certain circles, quite a few of our sweatshirts have become quite collectible and sought after. We generally only print around 50-100 of each design at a time, so as you can imagine popular designs can sell out quite quickly. 
Our Grafters sweatshirt in particular has proven to be a bit of a cult classic, selling out on two occasions and we also re-ran around 20 red Grafters sweats as a Members Only release for our Facebook group contributors. Our collaboration Northern sweatshirt with Aficionado Magazine also went down a storm and some 4 or so years later still lands us the occasional inbox asking for a re-issue. 
This was kind of the plan when we started with this collection, to create a product that's bold, nostalgic and tells our back story in the process. And if some of them become a rare, in-demand item in the process then even better.  
View some of our latest sweatshirt drops here:
---