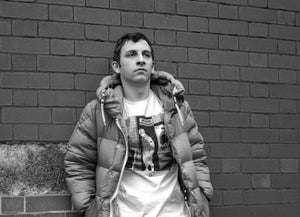 Throwback Thursday #1
Let's kick start the new blog with a brief shoulder glance back at a handful of some of our favourite products and projects over the years. 
As you know, lots of garments are football casual and British Subcult focused. But we also like to delve into industrial working-class inspired projects too. 
So we'll start with one of our personal favourites that also happened to be a collaboration with the top blokes over at Aficionado Magazine. Loads of you keep calling for a re-print, but we think it's cooler to keep it cult-like and not do so! 
CLOSERThanMOST x Aficionado Magazine Northern sweatshirt
Next up we just had to feature this one. Our OCD t-shirt was massively popular with fellow trainerheads, three stripe and trab addicts the globe over. They sold out rapidly in each colour combination and to multiple stockists in exclusive colourways. 
CLOSERThanMOST OCD t-shirt
In our honest opinion. You just can't beat a good parody t-shirt design. And being a tad anti-establishment, we enjoy it all the more if it's based around a massive global brand or corporation. It's like dishing out a gentle, playful flick in the bollocks whilst also being slightly mindful we don't get sued then have to file for bankruptcy! 
We've released too many of them to mention in one post, so we'll go with one of our personal favourites. 
CLOSERThanMOST Sweet & Tender Hooligans t-shirt 
We don't call ourselves The Working-class Brand just for the fun of it. We grew up in the North of England and worked in the factories and warehouses. And we're proud of that. So it just wouldn't feel right if we didn't feature one of our favourite industrial themed garms in this first look back.
Sweatshirts work well here, especially up north (even if we are hard as nails and could wear a t-shirt and shorts in the winter!) and i'm sure you've noticed that we try to keep our sweats mainly workwear/industrial themed. It's just something that we decided to do and have stuck with it . We could make more money by sticking all of our casual stuff on the sweats too, but we like it this way, it's almost like a separate project running along side the t-shirts. 
CLOSERThanMOST Warehouse sweatshirt
That's all for now folks!
Feel free to give us a shout and let us know your favourite CTM garms from yesteryear. 
---
1 comment