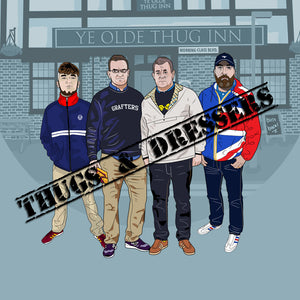 Thugs, dressers , trendies and casuals: Show us your clobber!
Come and celebrate the various British Subculture street movements with us and get yourself immortalised in the process. Walk the Saturday catwalk with our Thugs and Dressers project and get digitally recreated to feature in our gallery on a dedicated section of the CTM web store. 
This project was inspired by our friends and followers (you) and so far we've had a great response. In fact we've got a hefty mob of your images to get to work on (which is good!) and we've also had a nice selection of varied styles and looks. From classic terrace casuals rocking Stone Island and Fila BJ track tops to Skinheads in Doc Martens and bomber jackets. 
All subcults are welcome, whether your'e a Mod in a zoot suit rolling up on a scoot, a skanking two tone skin or a perry boy in a vintage cagoule, classic three stripes and a wry grin. If you look the part and dress sharp, your'e in! 
So, get involved and get in touch...
If you'd like to feature in our online gallery just send us a large (the bigger the better), clear head to toe image of yourself in your finest weekend clobber to casuals@closerthanmost.com
Alternatively, or if you have any questions you can DM us on our Facebook page. 
In the meantime, here's some of our dapper rogues featured already...
Check out the ongoing project here. 
---