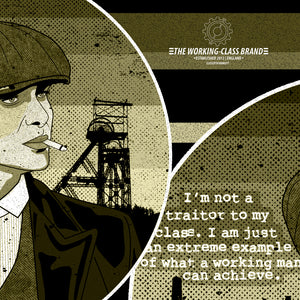 Tommy Shelby: I'm not a traitor to my class.
So, I suppose we're a bit johnny-come-lately with a Peaky Blinders tee of our own. Why?, you ask. Well, in all honesty we're usually too busy grafting to keep up to date with whats on TV and it just didn't feel right with us, creating something for profit if we weren't personally invested or hadn't done our research so to speak. If I'm honest I'm not quite sure how anyone who runs an Indie brand has time to watch anything! We're even putting in a proper shift on the weekend and evenings, and if it wasn't for occasional inspirational purposes the television could go to the scrap heap for the amount of use it gets these days.
Anyhow, thanks to late nights, CBD coffee and Netflix we're finally up to date with what the Shelby Brothers and family are getting up to. And it's top gritty British television with a grimy industrial backdrop, from what was a dark era of our working-class history. We obviously wasn't in attendance personally but with that part reckon they got it pretty much spot on.  
In terms of dram and grit, I still wouldn't stick the series up there with the likes of The Sopranos or Breaking Bad, but in our current state of awfully shit reality based television and constant shallow fakery on offer, I can understand the appeal for something more raw and legit. And for that, this show hits the spot.
Being self proclaimed philosophers for the working-classes, Peaky Blinders has it's fair share of great quotes that we can really relate to. Of the many we had to choose from, our personal favourite so far has to be Tommy's "I'm not a traitor to my class. I am just an extreme example of what a working man can achieve." Which is an inspiring response to factory boss Nial Devlin's concerns over the strikes and a potential forthcoming communist revolution. 
Needless to say we're enjoying it. So far so good. And it's certainly a breath of fresh in an industry dominated with cheap programmes starring talentless tanned clones with nothing to offer but gleaming white veneers, bad dress sense and a low IQ. 
With the help of more caffeine and catch up TV technology, we'll be no doubt be onboard for season 5 (at some point!).
Grab our Peaky Blinders inspired Working Man here. 

---